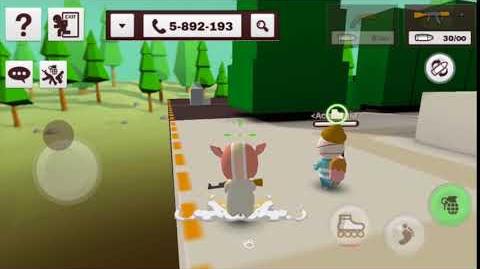 WheeLeg is one of the classes of this game. A pure supporter, it is able to support the whole team while camping in a faraway, safe camping spot. It is pretty fast, but has an HP slightly lower than the average of 200.
Ability
WheeLeg's ability is Speed Boost. Speed Boost increases the speed and jump speed of all teammates, including the user, by 60% for 6.5 seconds. It does not have a delay.
Strategy
Speed Boost is helpful during Capture the Milk, to help allies or yourself return faster, thus reducing the risk of being attacked. However, the sudden activation of the effect can cause teammates to lose their footing and fall off the map.
Speed Boost is useful to help dodge bullets.
The Speed Boost changes depending on what weapon the user is holding, so holding a Kaus96 would make you go faster than when holding a BVM.
WheeLeg usually stays on the defending side, camping with a sniper and supporting its allies with its skill whenever possible.
Community content is available under
CC-BY-SA
unless otherwise noted.