There are various servers across the world that are used to maintain balance lag and user pings.
Choose a server that is closest to where you live so that you have the least ping possible and a more likely chance that someone there will speak your language.
For example, if you live in New York, then you should pick a US East Server
Servers tend to triple when Battle Royale is active
The serbers used to be counted globally (an unique number for each server), now they are counted locally.
List of servers
Global #1
Global #2
Global #3
US East #1
US West #1
EU #1
EU #2
EU #3
South-East Asia #1
South-East Asia #2
Japan #1
Japan #2
Japan #3
Japan #4
Japan #5
Japan #6
South America #1
Mexico #1
Mexico #2
Brazil #1
Thai #1
Indonesia #1
India #1
Taiwan #1
Hong Kong #1
Middle East #1
Australia #1
China #1
Korea #1
Korea #2
Korea #3
Korea #4
Korea #5
Server maintenance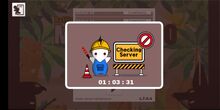 The servers require maintenance, it's not something unusual. The developers chose to make the maintenance of the servers simultaneously for all of them, even though sometimes there are moments when only some servers are under maintenance. The global maintenance periods are usually after an update, when they are mentioned in the official Facebook page, or daily, at a certain hour.
Community content is available under
CC-BY-SA
unless otherwise noted.