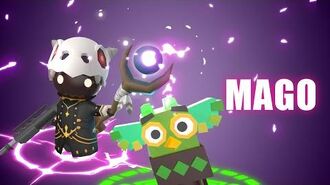 Mago is one of the 21 Classes in Milk Choco. Mago is a support class. It is quite fast and has a rather low HP than the default 200.
Ability
Mago's ability is Totem. It is able to place a totem on the ground that can either heal the teammates or slow down enemies, you can choose which totem you want by clicking the ability button at the right time.
Mago's heal ability lets it heal 35 hp every 2 sec. for 8 secs. a total of 140 hp, beating medic's healing, plus being able to heal multiple allies at once,but he cannot revive his companions.
Secondary ability is the slow down enemies, reducing their speed by 50%. Very useful so that rivals do not escape.
Strategy
Mago works well with many weapons.
Put the slow totem against walls to catch enemy's by surprise.
Keep in mind, the totem can slow/heal through thin walls.
Unlike Medic, Mago cannot heal very fast.
In maps like assault put the heal totem on the point, or put the slow totem on the enemy teams path to keep them away for longer.
Enemy's who are slowed by the totem are easier to hit head shots on.
When fighting Mago, if they have a slow totem down, jump to make it harder to be shot.
Community content is available under
CC-BY-SA
unless otherwise noted.