"Stop!"
This article is a stub. Please help Milk Choco Wiki by expanding it.
Thank you!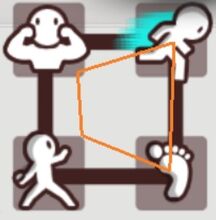 Invisible is one of the 20 Classes in Milk Choco. It's tied for the fastest speed in game. It bears a militant/ninja-like mask.

Ability
Invisible's skill is Invisibility Cloak. When activated, the player spins, and a glowing cloud disperses as the player becomes invisible. Note that teammates and the player see the player as translucent. If the player attacks enemies or is damaged, the player becomes visible. Recon can see Invisible using its ability. The cooldown time is very long.
Strategy
Invisibility Cloak is the main appeal of Invisible, however the speed/agility may also draw many players.
Invisible can be useful in Escort, Maze Death Map, and Assault.
Invisible is a good character to use to ambush enemies.

It is especially good for ambushing camping snipers.

Although Invisible has the lowest HP in the game, it is also the fastest. To avoid damage, the player can jump rapidly to make them hard to hit.
Be wary of shotguns if you get too close. The rapid successive hits can kill you almost immediately.
Sniper rifles can almost always kill Invisible in one shot, (only headshots from BVM, RD10 and Spyra can kill invisible).
Using invisible's ability doesn't mean he's fully invisible. His footsteps are still visible. Jumping repeatedly while moving can prevent this from happening but the jump cloud will still show.
Community content is available under
CC-BY-SA
unless otherwise noted.