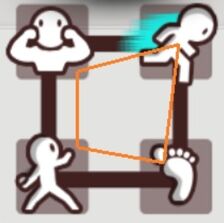 Ghost is one of the 21 classes in Milk Choco. Sporting a skull-like mask, has the second-lowest health and the fastest speed, on par with Invisible. Ghost's special ability is Teleportation, making it even more agile.

Ability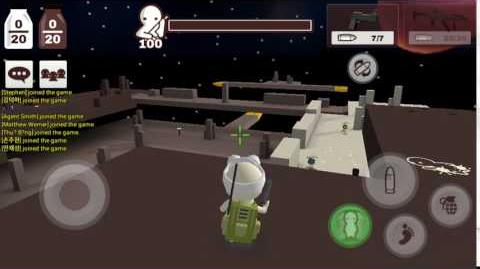 Ghost's ability is Teleport. When Teleport is activated, the player will begin to shake, then instantaneously teleport to wherever the cross hairs indicate. The player can only teleport to horizontal surfaces (e.g., the tops of surfaces, floors). If the ability is activated on an invalid surface (e.g. walls, the sky), it will be wasted, and the ability will have to recharge again.
Barrier
Ghost has a barrier with a maximum of 30HP and a recovery rate of 20.
Strategy
Ghost's speed makes it a great close combat character, so long as the player remains in motion.
Because the teleportation is not instant, the player should make sure they are well covered or that there are no enemies in sight to evade damage.
Using Ghost, the player can access locations impossible to reach with exception to using Air. For example, using Ghost, the player can teleport on one of the player can teleport on top of the giant Milk Bottle in Assault from on top one of the tall blue pillars. (You can no longer teleport on top of the bottles.) This makes Ghost useful as a sniper.
Weapons with high DPS (damage-per-second) work well with Ghost because of its low HP.
Ghost has more footprints than usual, making it easy to find. To cover your tracks you can:

Continue to walk after hitting a wall or obstacle. This will generate the footprints in that spot and make the previous prints despawn.
Hop while moving to make your tracks more sparse.

Because the death screen shows the player (and it's location), Using its teleportation can be helpful to move away quickly from respawning enemies seeking revenge.
Ghost also works well as a sniper: teleport away if someone gets too close. However, it must be done well in advance so that the player does not sit too long.
Ghost makes for a quick kill because of its low health, with exception to Invisible.
Due to its low health, Ghosts are weak to shotguns and other high-damaging weapons.
When teleporting, the player will become immobile for a short time (.75 seconds) when leaving the current location and appearing at the target location.
Teleportation is very useful for surprise attacks, especially in 1v1.
in Capture the Milk, it is possible to teleport to the other side by standing uncomfortably close to the edge and aiming at the ground of the other side
Trivia
Community content is available under
CC-BY-SA
unless otherwise noted.