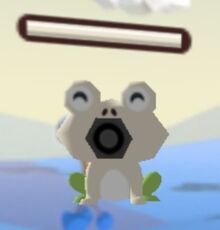 Frog Cannon is Carog's special ability. A frog-shaped cannon will appear when the ability is activated, and it will start working after the Carog will punch it 3 times. It makes rapid attacks to your enemy (9 damage per shoot, 2 shoots per second). Frog cannon can be destroyed by other team and can be healed by Medic. Frog Cannon will disappear after the player who put it died or after 28 seconds (time limit) or the player who put it changed its class (only in B.R.).
Community content is available under
CC-BY-SA
unless otherwise noted.