The death map is the one where the goal is to kill players from the other teams. The first team who kills 20 players or who has the biggest number of player from the opposite team killed wins. If the number of players from the opposite team are the same for both teams it's a draw.
The open map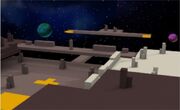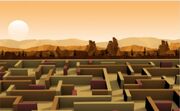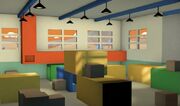 It consists of a base platform over which there are the platforms of each team, one in front of the other. They are linked by an other platform at the same level on one side and at the other side there are other 2 platforms higher that have Launch Pads connecting each other. There is also a further platform where you can enter in it's middle and get out on the team platforms.
The death maze
It consists of a maze colored in shades of yellow (dominant) and red. It is the only map where jumping is not possible (
Air
's skill still works, though).
The death container
It consists of a tall building with various corridors and boxes to climb that has two balconies where the teams spawn.
Trivia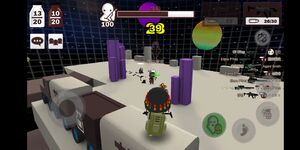 The open death map used to have stairs and decorative toy trains.
The death maze was for a period only available through friendly matches.
The death container is the newest game mode out there.
Community content is available under
CC-BY-SA
unless otherwise noted.